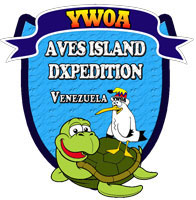 The 4M5DX Group is organizing a DXpedition to take place from Aves Island (NA-020, DIV-001, WLOTA 0216) sometime between 1 November 2013 and 28 February 2014.
Eleven operators from Venezuela, Argentina, Finland and Spain will be active as YW0A on 160-6 metres all modes.
QSL via EB7DX (OQRS for direct and bureau cards on Club Log) and LoTW.
Tnx PY2ZX via VHF-DX LIST and Sixitalia Weekly Info Page.
Comments