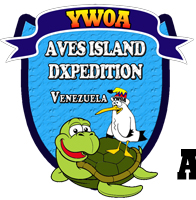 The YW0A team will depart La Guaria on 29 April at 7 a.m. (11.30 UTC).
The voyage to Aves Island (NA-020) will take about 40 hours.
Once on the island, they will be QRV on 160-6 metres SSB, CW and digital modes (RTTY, BPSK 31, BPSK 63, JT65) for 5-7 days.
QSL via EB7DX (OQRS on Club Log for direct and bureau cards) and eventually LoTW.
Further information at www.avesisland.info .
Tnx 425 DX NEWS.
Comments