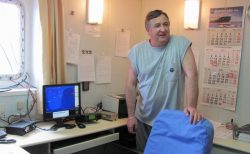 Frank, K4FEG received an email from Yuri, UT1FG/mm from port in Uruguay.
He will be leaving port today and he will be sailing SOUTH to go around the southern tip of South America and will be making port in Chile.
He will be taking on loads in 4 ports in Chile before heading NORTH towards Panama.
Here is the list of Ports of call for the "SILVER" the ships callsign is: 5BNC3.
He is expected arrival at San Antonio, Chile is October 14, 2013.
1st port San Antonio/Chile – FF46
2nd port Las Ventanas/Chile – FF47
3rd port Coquimbo/Chile – FG40
4th port Punto Patache – FG49
[ANS thanks Frank, K4FEG for the above information]
Tnx to Flavio PY2ZX.
Comments