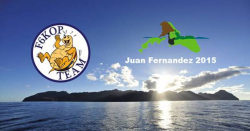 F6KOP will be on Robinson Crusoë Island IOTA SA-005 (Juan Fernandez Archipelago) from 24th February to 4th march 2015.
A team of 22 operators from 7 different nationalities will be active on 160 to 6m
The web site will be online soon.
QSL direct / buro / LOTW.
Team Leader : F5JTV Alain, Co-leaders : F8ATS Tony, F1ULQ Jean Luc.
More information to follow.
Source : F6KOP via DXNEWS.com.
Comments