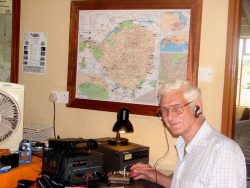 Our friend Alessandro, IZ5MOQ send us some photos from Gert A25GF in Senyati Safari Camp.
Gert say: "I am planning a visit to 7P8 from 13  Apr for  about 4 days.  Will be on HF 40-10m and also 6m. Not much hope for the 6M but who knows what the Sun may be doing, Hi!  Longterm thinking of going to 3DA in September, again long chance of 6M?"
Tnx Alessandro IZ5MOQ.
Comments