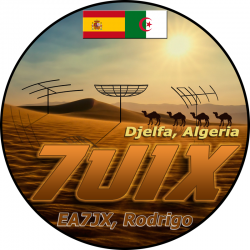 Rodrigo, EA7JX will be active as 7U1X from Djelfa, Algeria on 18-25 September, 2017, including  a SOAB entry  in the CQ WW RTTY Contest. 
He will operate SSB, CW and RTTY on the HF bands and 6 metres.
6m Frequencies: CW – 50,107 SSB – 50,117.
QSL via    Club  Log's  OQRS,  or  via  home  call  (direct  or  bureau). 
See http://www.7u1x.com/ for more information.
Tnx: 425 Dx News
Comments