LATEST NEWS: Rotuma DXpedition now postponed to September 12th to 26th 2014.
Next Rotuma DXpedition confirmed for July 25th to August 8th 2014, SSB & CW 40 m to 6 m.
This will be a one-man operation while working also on climate change projects, so not always on the air.
Still looking for spare parts for my 14-years-old ICOM 706-MKII, which is faulty (no TX).
If anyone can help with a spare main unit board please contact me.
Thanks in advance. I have secured a backup rig in the meantime.
QSL direct only to Fiji address. Please include at least two green stamps (very well concealed, with foil or between QSLs) or one IRC with AIRMAIL SAE for first class return postage. NO CALLS ON ENVELOPE PLEASE. We have LOTS of mail theft in Fiji. After intense lobbying by 3D2AG, IRCs are now exchangeable at the normal UPU rate in Fiji. Please don't forget to put an airmail label on your return envelope, and write your country name clearly.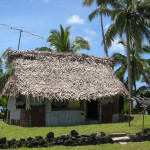 Tnx 3D2AG
Comments