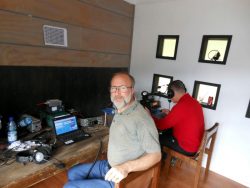 Art WA7NB Will be active from Anguilla between November 18-25 including CQWW CW in the multi-single catagory. Week before Contest will be active on all bands CW, SSB and Digital using VP2EAB callsign.
QSL is VIA home call WA7NB or if you want LOTW go to OQRS/CLUBLOG.
This is a very expensive trip for him to activate this entity in the test. He would really appriciate any donation you can spare.
Equipment:
Icom IC-756PROIII, Icom IC-756
Ameritron AL-572 Amplifier
Antennas:
6-20 meters: G3TXQ Hex Beam @50 feet
30, 40, 60, 80, 160 Meters: Inverted Vee Wires @ 40 feet
Comments