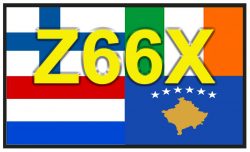 The Kosovo International Friendship Consortium, Z66X, will activate Kosovo once again beginning July 19 through July 30th with emphasis on FT8 Digital from 80m through 6m and utilizing the recently released DXpedition mode version 1.9.1, downloadable from https://physics.princeton.edu/pulsar/k1jt/wsjtx.html
(Please read https://physics.princeton.edu/pulsar/k1jt/FT8_DXpedition_Mode.pdf for details on split operation).
The operators are Enda EI2II, Declan EI9HQ, Martti OH2BH, Hans PB2T, Driton Z61DX and Fehmi Z62FB.
With the success of their first FT8 activations: OJ0BH, 7Q7EI and recently KH1/KH7Z, it is felt that FT8 DXpedition mode needs some further activation also in Europe. Recent authorization of 6M in Kosovo will also add to this desire.
So as not to impede on the normal FT8 traffic we will operate on the following frequency's
Band FT8 DXpedition mode
80 3567
40 7056
30 10131
20 14090
17 18095
15 21091
12 24911
10 28091
6 50317
QSL Z66X via OH2BH via Clublog which will be on-line throughout the operation.
We are delighted to announce that 'Kosovo – the World's newest DXCC entity' along with this Z66X operation will be presented at 'DX Féile' – the EI DX Convention, by Martti OH2BH (September 14/15). See www.dxfeile.ie for full information on this unique event.
Comments