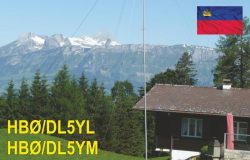 Look for Tina, HB0/DL5YL and  Fred, HB0/DL5YM  to be  active  again from  Liechtenstein  from  21 September to  7  October, 2017. 
They  will operate  mainly CW, with  some  SSB  and  RTTY (including  activity during the  CQ WW DX RTTY Contest) on  160-6 metres.
Equipment: IC 7400 +PA (500 watts), Hexbeam and Dipole.
QSL via  home calls, direct or bureau.
TNX DX Newsletter /425Dx News
Comments