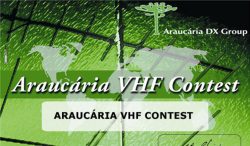 To remind everyone that this next weekend we have the ARAUCARIA VHF CONTEST with activity on 50 and 144 MHZ.
We will have many South American stations on the bands.
To publicize your participation access the page: https://www.avhfc.com/?page_id=1597
Simply turn on the radio and make some contacts. The report is RST (59 or 599 + your Grid Locator).
We have already confirmed participation in 15  brazilian states and the Federal District.
We have some new grids that never before activated.
For more info go to: https://www.avhfc.com
Comments